My 9 year old has always been totally and utterly in love with the Disney character Stitch. So when we decided to give her bedroom a makeover we knew that he had to feature! As she is approaching becoming a tween, she decided at the start of the year she didn't really want her bedroom to be pink anymore. She wanted it to be blue. Which is perfect as that is the colour of her main alien. At the bottom of this post I have included a tour of how we made the makeover happen.
We took two shelves from Ikea that were already in the room and decided that these were going to be the main area where she could show off some of her Stitch collection. We chose to display a couple of Stitch and Angel Easter bunnies as well as some tsum tsums (aff link) and other little cuddly toys she has collected over the years. We bought back a Stitch mug from Walt Disney World in 2019. I thought this would look great with a fake plastic plant from Ikea in it.
I framed one of her (many) drawings of Stitch and in another blue frame I popped in a photo of the whole family with Stitch Elvis – our favourite! I looked online for a Ohana print and couldn't find anything I really liked so I made my own print on PicMonkey. You can download the print here for free! Also on the shelves we popped a blue polaroid camera, a lava lamp and a Lilo and Stitch model (aff link) she was given by her grandparents.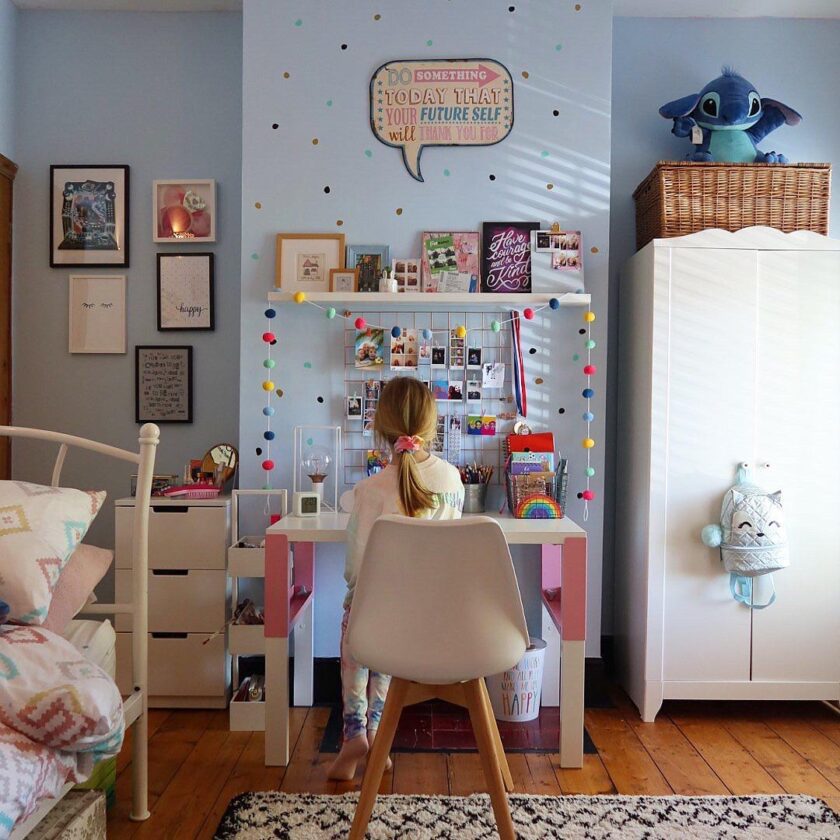 We painted two sides of the room light blue and the other two sides white. I also bought some decals from Etsy in black, gold, turquoise and blue. These are great and SO easy to use. She previously had some pink ones up. Thankfully these were easy to peel off and didn't leave any marks. We used all of my daughters old furniture from Ikea. But changed out some of the prints in her frames to make them a little more grown up. We also framed her first pair of Minnie Ears (aff link) from her trip to Disneyland Paris when she was two.
A few years ago I bought a pack of vintage ride prints from Disneyland Paris so we took out two of her most favourite rides and added these into some larger white frames that housed prints she didn't really want anymore. I popped some string lights on from Home Bargains.
For her desk area I added some pom poms from Sainsburys and put up lots of photos of her friends and family. I wanted the room to be able to grow with her so she can easily change the photos as well as the items on the shelves. If you watch the vlog below you will see how pleased she was with her room. And I secretly have my fingers crossed that she loves Stitch for a long, long time…
If you are thinking of going on a Disney holiday soon please check out our Amazon storefront for lots of products we recommend taking away to make the most of your magical adventure! (links are affiliate)