One of the best ways to meet characters on your trip is to go to one of the Walt Disney World Character Meals. Whilst a meal for a family of four can set you back well over £125. If you are on the Disney Dining Plan it is possible to upgrade your food plan for a fortnight for around £700 to include one sit down meal a day. Which is great news as these can be redeemed against character meals! With the exception of Cinderella's Castle which does take up two Disney Dining meal credits.
If you are staying on a Disney property you can book your meals 180 days in advance via the My Disney Experience app. And whilst this seems such a long time before your trip I really would advise you do. Especially if you are considering The Best Friends Breakfast at Ohana or would like dinner with the Beast at Be Our Guest. It's also a fun way to get excited for your trip! I like to input my meals into a spreadsheet and will write a post on that soon.
I have based our favourites on the food my children have enjoyed (at the time of writing this both under ten), location, character interactions. Including the range of characters and the time spent with each person. And by each person I also mean me! I may be a Mummy but I still love a cuddle with Mickey Mouse! Let me know your favourites in the comments!
Ohana's Best Friends Breakfast – Polynesian
One of the most popular character meals, this gives you the chance to have breakfast with Lilo and Stitch. They spend a good amount of time at your tables and Stitch is always a really good fun character to meet. He is always getting into trouble! The theme is a tropical feast and food is served in a family style platter. This is great as it means you get to ask for more food which includes Mickey waffles, eggs, biscuits, fruit and bacon. Ensure this is one of the meals you book first when your 180 days start! We like to kick our trip off here.
Chip 'n' Dales Harvest Feast – Garden Grill – Epcot
Food wise this is one of our favourite meals and it's also in a great setting. The room rotates very slowly which is fun and exciting for the kids. You get to meet Mickey, Pluto, Chip and Dale. You spend a long time with each character and Chip and Dale are always up for some really fun photos. Another family style platter. With food quite similar to a British Sunday lunch including meats, veggies and potatoes. You can also go for breakfast which I would love to try on one of our next visits.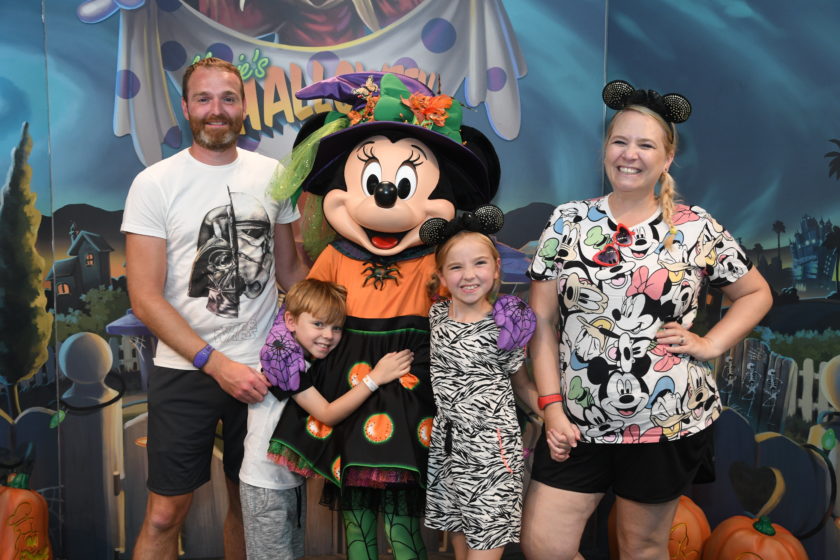 Minnie's Seasonal Dine – Hollywood & Vine – Hollywood Studios
This is a great place to visit if you are looking to celebrate a season like Halloween. When we went in August (yep Halloween starts in August in WDW!) Minnie, Mickey and co were dressed as Halloween characters and it was such fun. And I love a meal where there is a photo pass photographer as you enter as you can get a great family photo taken. There is a great selection of family favourites in the buffet to eat including Mickey Waffles for breakfast, pasta, fish and chicken for lunch.
Cinderella's Royal Table – Magic Kingdom
If you are not on the dining plan and would like to pay for an extra special experience for your family that you will never forget. I would highly recommend Cinderella's Royal Table. It's inside the castle and you get to meet Cinderella before you go upstairs to eat your food (remember I love those photo pass opportunities!). It's more of a formal food setting so bear that in mind for little children. Princesses including Ariel and Aurora walk around whilst you eat and a magic star is left on your plate. You also get a wand or a sword and get to use these props during your sitting. They often offer swords for the boys and wands for the girls but you can ask to swap. The meal takes around an hour. Truly magical!
The Crystal Palace – Magic Kingdom
This is my best pick for smaller children. It's in a great location opposite Cinderella's castle that is easy to get to. My children when they were toddlers adore meeting Winnie and Co. It's another buffet style venue with something for everyone and always has a great range of mini puddings. You get a good time with the characters and I find they are cuddliest ones to meet! Eeyore is a particular favourite of mine for a snuggle. An all round adorable experience.
Donald's Dining Safari Lunch – Tusker House – Animal Kingdom
This is one of the most fun Walt Disney World character meals in Animal Kingdom as I love Donald – he's always such good fun. Last time we visited it was dinner time and we did find that it was quite busy so I will see what it's like when we go on our next trip. There is a good selection of food on offer in the buffet and the breakfast menu looks amazing! So I definitely want to book a trip there for breakfast at some point. Donald, Mickey and Goofy spend a good amount of time at each table. But it is quite dark in there so not the greatest for photos.
Bon Voyage Adventure Breakfast – Disney's Boardwalk
We really enjoyed this character meal. It's a short walk from Epcot over on the beautiful Disney's Boardwalk. Which is definitely worth a visit on your trip. You get an amazing family platter starter of pastries. Followed by table service with a good range of breakfast products. It takes around an hour and you get to meet Princesses with their Princes, which is quite rare! It was really fun to chat with Flynn and the interaction between the Prince and Princesses was just adorable. I can't wait to return on our next visit!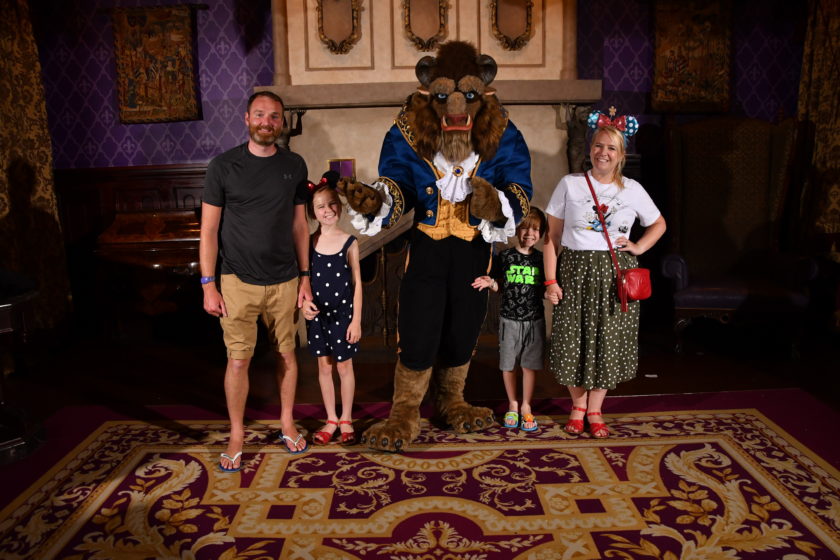 Be Our Guest – Magic Kingdom
You can pop into Be Our Guest during the day with a Quick Service Credit. We've had breakfast there a few times. It's a beautiful setting and you get a decent amount of food. Whilst there are no characters there during these times it's still well worth a visit just for the experience. On an evening you can have a table service dinner and before you sit down you get to meet The Beast. Which we all found to be amazing as he's SO big and isn't a character you would generally get to see in the parks. You also get to try the grey stuff and decide if it really is delicious. My family and I went later in the evening and the children were very tired so maybe try and get an earlier sitting if you have a young family.
Akershus – Norway Pavilion – Epcot
We have been to Akershus a few times and I it's not really one of our favourites. But I am popping it on here for those little ones who love princesses. If you are planning a day out to Epcot and have some fast passes booked for the Frozen ride it might be a nice idea to book this in at the same time. My children weren't a huge fan of the food as there are some European options that they weren't quite used to. But you do get a decent amount of time with princesses (not Anna and Elsa!) and get to walk around with them at one time which really is adorable and always brings a tear to my eye.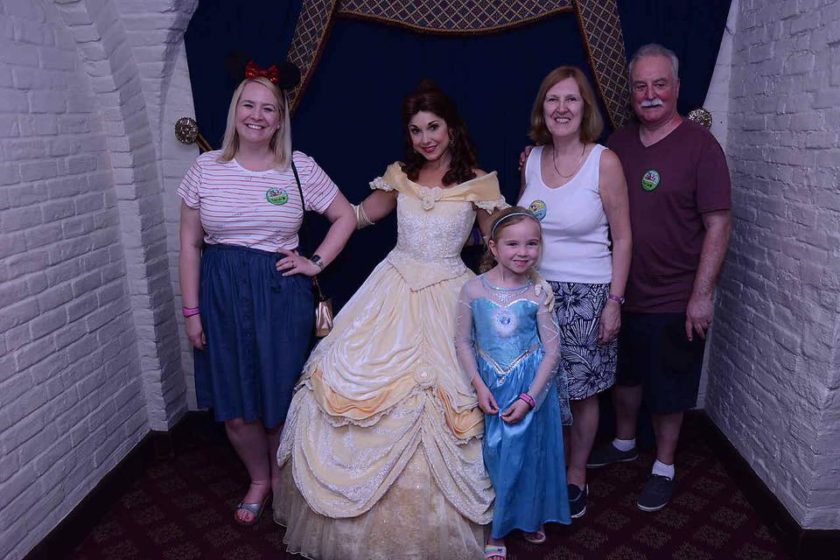 So there are our tried and tested favourite Walt Disney World character meals. Who is your favourite character to meet? To book your next Walt Disney World Trip CLICK HERE! (aff link)