One of my favourite things about going on any Disney holiday is planning what I am going to wear. For some of you comfort may be the way to go. Or you may be at the other extreme end of the Disney style spectrum and wish to Disneybound every day you are in the parks! I like a happy medium. So here are a few tips I've picked up along the way that may help you if you want to add a bit of extra magic your next trip.
Comfort With A Dash Of Magic
As park days can be long you may feel more comfortable rocking a pair of jeans or some shorts. If I'm feeling in a comfy mood I opt for shorts that come complete with cycling shorts underneath. So no one gets a flash on the rides! I accompany this with one of my many Disney tops. Primark do a great range. They are made from quite a thin material which is perfect for the Florida heat. ShopDisney also do some great quality t-shirts and jumpers. You can of course you can buy them in the parks but these can cost quite a lot.
If you are craving to buy a top when you get to Florida it may be worth visiting one of the two Disney Character Warehouse outlet stores to get former Disney Parks items at a reduced cost. Uniqlo in Disney Springs also has a brilliant range of men's, women's and children's tops for around £15.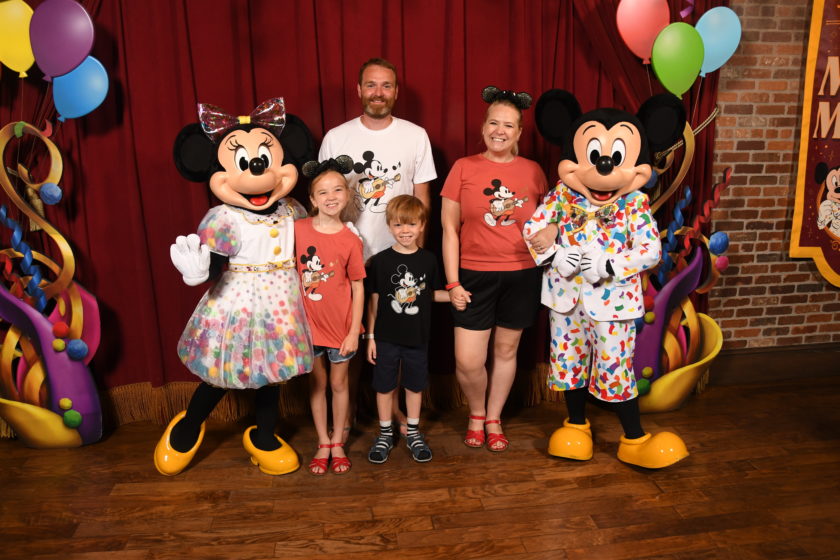 Beautiful Bags
Another easy way to add a splash of Disney to your outfit is to accompany it with a Disney bag. It might be a rucksack to hold in all your essentials or a over the top handbag that doesn't hold much but looks great. You can also buy badges to pop on jackets as well as iron on transfers. I am quite fond of a Minnie woolly hat and my husband enjoys wearing a baseball cap with a subtle nod to Mickey.
Marvellous Midi Skirts
My favourite outfits to wear in the parks are those that feature a midi skirt. ASOS do a great range – type in 'Box Pleat Midi' or check out the affiliate link here. I've also picked up skirts from supermarkets as well as New Look. I like the length of the skirt as it's not too short to show off your pants as you get on and off rides! I generally pair them with saltwater sandals (let me know if you would like me to write a post about the best shoes for a day around the parks!) and tuck in one of my million Disney t-shirts. If you are planning on wearing a midi skirt all day in the parks. Make sure you pick up some cycling shorts to wear underneath. Or top tip…pop on some roll on deodorant on your inner thighs.
Embracing Your Inner Disney
In 2019 I attended the Disneyland Paris Dapper Day. It was wonderful day out and my daughter, Mum and I had SO much fun channeling our inner Minnie and rocking the dots. Disney bounding is where you wear colour and pattern combinations to represent one of your favourite characters. It needn't be over the top. You could simply wear a purple dress to be Rapunzel, maybe a green shorts and a top to be Peter Pan. Adults aren't allowed to dress in costumes apart from Halloween parties. So this is a really good subtle way to pretend to be the character you've always thought was your spirit animal.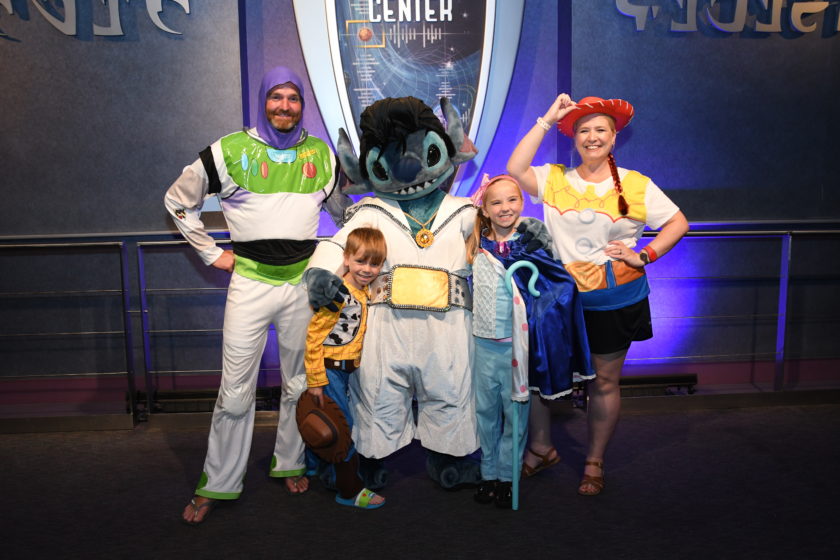 Disney Style For Kids
When I have a Disney trip planned I like to shop around for clothes in the sales during the course of the year before our visit. Again Primark have some amazing outfits. If you child is around 7 you can get them an XS top and they can twin with you which is something I have done a few times. It's also always really nice to visit with your children dressed in an outfit for example their favourite princess. However do bear in mind in the parks these can be triple the cost of what you would get from a supermarket at home. So it may be best to pack one in your suitcase. There is something so magical about your little one meeting their favourite character dressed as them. Makes for a really wonderful and unforgettable experience!
Have Fun!
Disney is all about having fun. Whilst my idea of fun is skipping around in a midi skirt, with ears and a giant Mickey bag. Yours may be wearing jeans, a comfy pair of shoes and a baseball cap. There is no pressure of what to wear or when. You should do whatever makes you happy. And if there is anywhere on earth that can make you happy? It has to be Disney right?